MNP was one of the first fastener companies in the world to earn the QS9000 certification — a strong indication of our leadership in the pursuit of quality.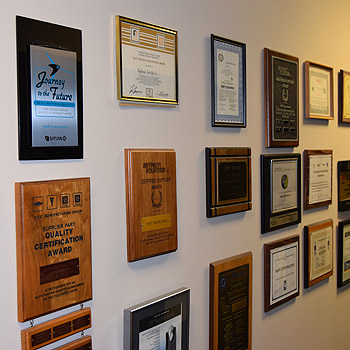 It's a commitment that we've built into both our philosophy and our corporate structure. From officers and directors to managers and employees, the responsibility for product and process quality is owned by everyone. And because the entire value stream is contained within the MNP enterprise, our control over quality is highly responsive and direct.
Our quality systems are accredited to ISO/TS16949 and ISO9001, our laboratories to ISO17025, and our environmental management system meets ISO14001. In addition to numerous awards for excellence in quality assurance, we've earned the GM Supplier Quality Excellence Award and Ford Q1.
Accreditations
Environmental Accreditations

Quality Accreditations

ISO / TS 16949 – MNP Corporation (Inc. Engineering Ctr.)
ISO 9001 – MNP Corporation (Inc. Engineering Ctr.)
ISO / TS 16949 – MNP / Plant II
ISO 9001 – MNP / Plant II
ISO / TS 16949 – MNP / MNP Precision Parts
ISO / TS 16949 – MNP / Utica Washers
ISO / TS 16949 – MNP / Heat Treat Plant 2

Laboratory Accreditations