MNP's distribution facility leads the industry by combining the latest in new technology with nearly 50 years of experience in a high-volume, fast-paced environment.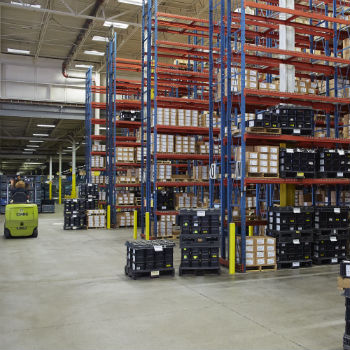 MNP distributes nearly eight million fasteners to hundreds of locations daily, with precise accuracy and on-time delivery. With over 20,000 rack locations, electronically guided hi-lo's, the latest in bar-code technology, and a customized ERP system, MNP sets the standard in distribution flexibility and efficiency.
Our distribution facility also includes the world's leading fastener-sorting equipment technology. 3-dimensional cameras, 360-degree lasers, and high-resolution super-eddy current capabilities allow us to sort for all critical part characteristics associated with making a fastener.
After final inspection, our product is packaged on high-speed automated or manual-packaging lines. With our custom software, we can meet any customer's requirements with a wide-array of packaging and labeling capabilities.
General Fasteners was established in 1952, with warehouse facilities throughout North America and partner alliances in Thailand, Asia, Brazil, India, and Europe, General Fasteners Company has been a valuable addition to the MNP family of businesses. They are an industry-leading distributor and integrator of fasteners, fastener-related hardware, and have the technical expertise that pulls the distribution scheme together. Serving a wide range of major industries, General Fasteners Company brings unrivaled distribution, logistics, and VMI capabilities complimenting MNP's fastener offerings.
MNP's global reach is also enhanced by its partnership with Fastener and Automotive Products LLC, an import logistics organization. With over 30 years of overseas procurement and partnering relationship experience, FAP specializes in overseas procurement for its various partnership companies. The group specializes in blueprint and value added products sourced from TS16949 approved factories for multiple end user markets. FAP maintains a quality assurance office in Tainan, Taiwan with employees in both Taiwan and China.