The most advanced heat treat technology in the industry.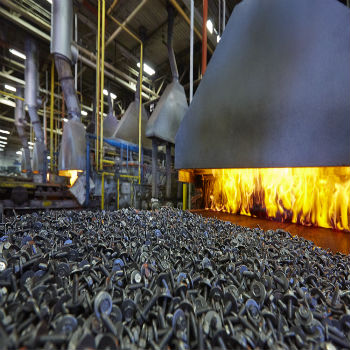 MNP's heat-treating operation was internally designed to exceed today's stringent quality standards for steel heat treating and property classifications. Specializing in through and case hardening of medium carbon and alloy steel grades, we process a wide array of product types including: standard cap screws, case-hardened wheel studs, and fatigue-rated critical engine fasteners.
Our heat-treat operations are certified to ISO/TS 16949, AIAG CQI-9, and several other key heat-treat requirements. The supporting lab functions are A2LA accredited to ISO 17025 and supported by the latest metallographic testing equipment.
From standard cap screws to highly engineered fatigue-rated critical engine applications, our robust in-process controls, soft-handling techniques, and superior equipment design separate our heat-treating facilities from the competition. By incorporating heat treatment as an internal process, we provide the cost and quality controls that only full vertical integration can offer.