MNP has a full line of rod, wire, and flat roll processing capabilities.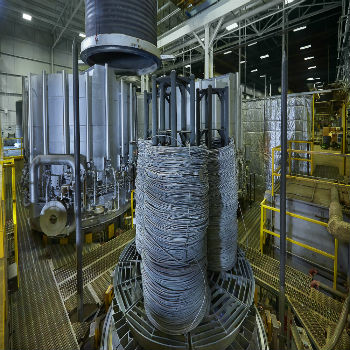 MNP's origins are in the steel business, starting with a single salesman and a clear vision. This vision has given MNP an expertise in the industry that is second to none. From steel procurement, to annealing, drawing, and wire coating, MNP controls each step in this very important process.
Our Steel and Wire Fabricating division has both nitrogen and state of the art hydrogen annealing furnaces capable of producing nine million pounds a month of annealed steel. Once annealed, the steel is cleaned and coated in our in-house pickle and steel coating lines. Total control of the vital steel processing stages is performed in house to the strictest of standards, providing lot traceability back to the original steel coil. This level of vertical integration offers our customers the highest level of quality and process control in the industry.
In addition to our internal steel and wire processing, our family of companies also provides high quality steel rod and wire to various other industries and end users, making us one of the largest steel coil distributors in North America.
MNP also provides flat roll steel resources, including everything from distribution and mill sourcing of full prime steel coils, to pickling, leveling, milling, and slitting of various gages and widths. All delivered on a just-in-time basis.